Gustave Blersch House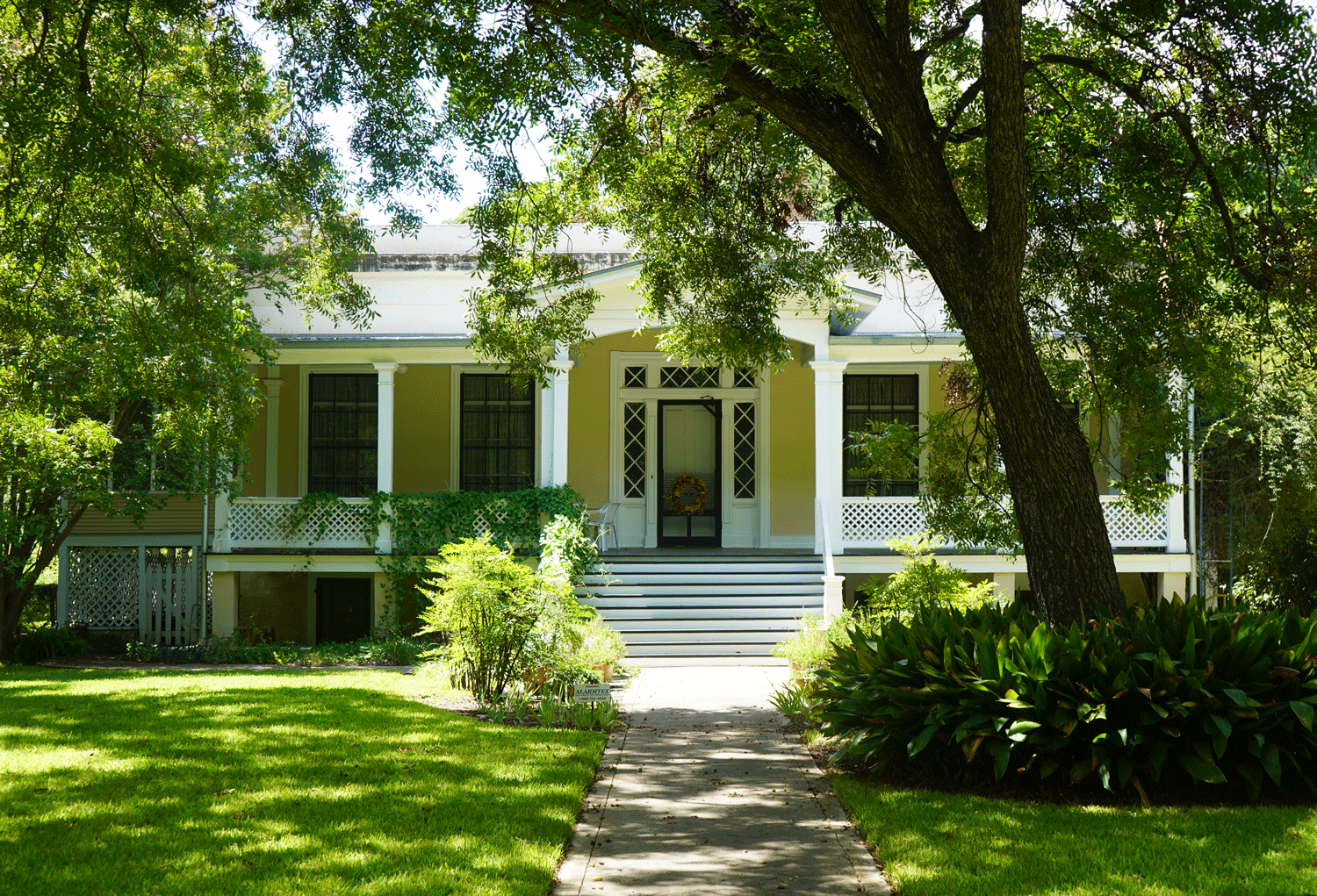 213 Washington Street
The Gustave Blersch house, built for the city's leading book and stationery dealer, was completed in 1860. The modified Greek Revival raised cottage has a half basement and deep front veranda. Apart from the addition of a bay window (circa 1872) and sleeping porch (circa 1921), the front elevation retains its original appearance. A two-story back wing enlarged the house in 1872. The grounds, more expansive prior to river re-channelization in the 1920s, form a terrace to the Riverwalk, extended south from downtown in the 1980s.
'San Antonio Architecture, Traditions and Visions', AIA San Antonio, 2007
The Blersch / Watson House is a Texas German Vernacular native limestone house with one and a half stories visible from the front elevation. The wide steps lead to the central entryway, which is flanked by floor to ceiling windows. The roof parapet wall is an unusual feature for the area.
Originally owned by Thomas J. Devine, this land was transferred to his wife's Catherine Elder, in 1853, before she married Newton Mitchell. Mitchell subdivided the land and sold these lots to Gustave Blersch in January of 1860. He built this two-story house soon after, making it one of the oldest houses in the area. It was designed by Gustave Freislben and built by Hermann Kampmann. James Thornton, a banker and exchange dealer with Thornton and Lockwood, bought it in 1871 and added the two-story rear wing and bay window. After he sold to Craven and Julia Woodward in 1883, a number of other owners followed: James Fleming 1890-1895; Mrs. James McLeary 1895-1900; and the Robert Burnett family, who made this their home from 1901 to 1903. From about 1904 until 1948, William B. and Alice Clarkson and later their daughter, Mrs. Florence Groos, and her children lived here, enclosed the porches and added a sleeping porch. William and Elsa Watson bought the property in 1948. Elsa grew up in her great-grandparents' home at 335 King William. The Watsons' daughter and her husband, Ann Maria Watson and Fred Pfeiffer, continue to live here. Maria is a well-known San Antonio historian and Fred for many years was General Manager of the San Antonio River Authority.
'The King William Area, A History and Guide to the Houses', Mary V. Burkholder and Jessie N.M. Simpson; published by the King William Association, 2017